I'd like to thank Joy at CUPIDS CHARM for hosting today's
Beautiful Blogging Party.
Visit her
here
for links to all participants.

WHY I LOVE BLOGGING

Even though a blog is a very personal thing, and we all create our blogs to reflect our viewpoint….I think the two things that I love most about blogging are the sense of community and sharing.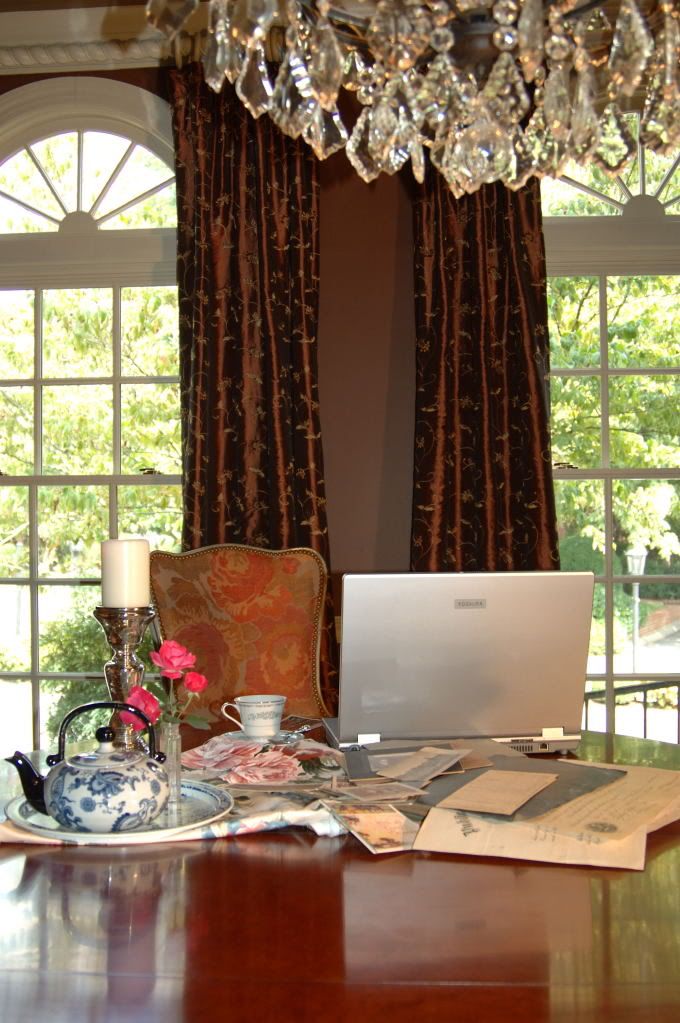 I'll never forget the day that I stumbled upon a blog, while doing a search on the web. I knew nothing about blogging. I'd heard the term batted around during political campaigns, but had never read one. I clicked my mouse and there before my eyes was the most amazing "article," for lack of a better description, complete with beautiful photos. I was speechless! I lingered........
There was a Flickr slideshow.
"I love taking photos and creating slideshows!"
There were beautiful handmade paper and fabric items.
"I've always loved making things!"
There were collections of vintage items.
"I've been collecting vintage items my entire adult life!"
I added the site to my favorites…and made return visits. I discovered links to other blogs with interests similar to mine. I read them all, pouring over the beautiful photographs.
"Photography is a hobby of mine, as well!"

I began to feel that a real sense of community existed among these women. In days past, we worked, played, worshiped, were educated, and grew up in our immediate surroundings. Women chatted over fences, formed friendships, and helped one another.
Today our lives are more insular. We are a very busy society. The constraints of distance and time have rendered the "chat over the back fence" improbable, at best…….and yet, here were women chatting over virtual fences. Sharing their latest endeavors, as well as, snippets of their personal lives.

I wanted to be a part of that community. I wanted to chat over the fence with all those interesting women……but, I would be the new kid on the block. Would they be interested in anything that I had to say?…..and would my interpretation of our "shared interests" be worthy of anyone's attention? I needed to find out. I sorted through the process of setting up my blog, and jumped in. I didn't know what to write about. I was apprehensive. I typed some words, added a photo, and hit POST. I waited….would anyone really read this? How would anyone know I was there? I'm a grain of sand on a beach! I posted a few more times…….nothing! And then…..someone read my posts and left me a lovely poem, in return. I was thrilled and amazed at the same time.
I wondered how anyone had ever found my needle in that great virtual haystack.
I'm still relatively new at this. I'm still figuring it out, but I've made some wonderful friends. Yes, I do consider them friends, even though we've never met face-to-face. I've discovered that in addition to being a place to showcase your ideas, artwork, latest vintage finds, collections and photography…..this virtual community, has a great deal in common with the communities of old. People genuinely care about one another. They support and encourage each other. They offer an ear , if you need to vent…..a shoulder, to cry on…..always ready to have ideas bounced off them…..they offer a place to laugh….a place to play, and a place to learn. Our common interests bring us together where time and distance are no longer obstacles.

OK, When I joined this community, no one showed up on my doorstep with a freshly baked pie……but many have shared their favorite recipes. The key word here is…….shared.

Everything in life is more meaningful, when shared.
Best Wishes,
Kay