Karen at My Desert Cottage has invited us to share our personal creative spaces. She has all the participants listed on her side bar, and there are a lot. So grab your favorite beverage, put your feet up, and enjoy.
When

I first became interested in collecting and creating, I carried all my stuff around with me.
I was five. My Mother (who was trying to clean her closet) decided
that if she was ever to finish her project, she must create one for me, as well. She pulled a purse from the to donate pile, and handed it to me. MAGIC HAPPENED! Every treasure I found went right into that purse.
My best friend (and next door neighbor) was given a purse, as well. We'd run to our special corner of my backyard garden, and pour out everything our purses held. Then we would spend the rest of the day making something wonderful from the bits and bobs.
Many different creative space scenarios followed, but my present situation is by far the best.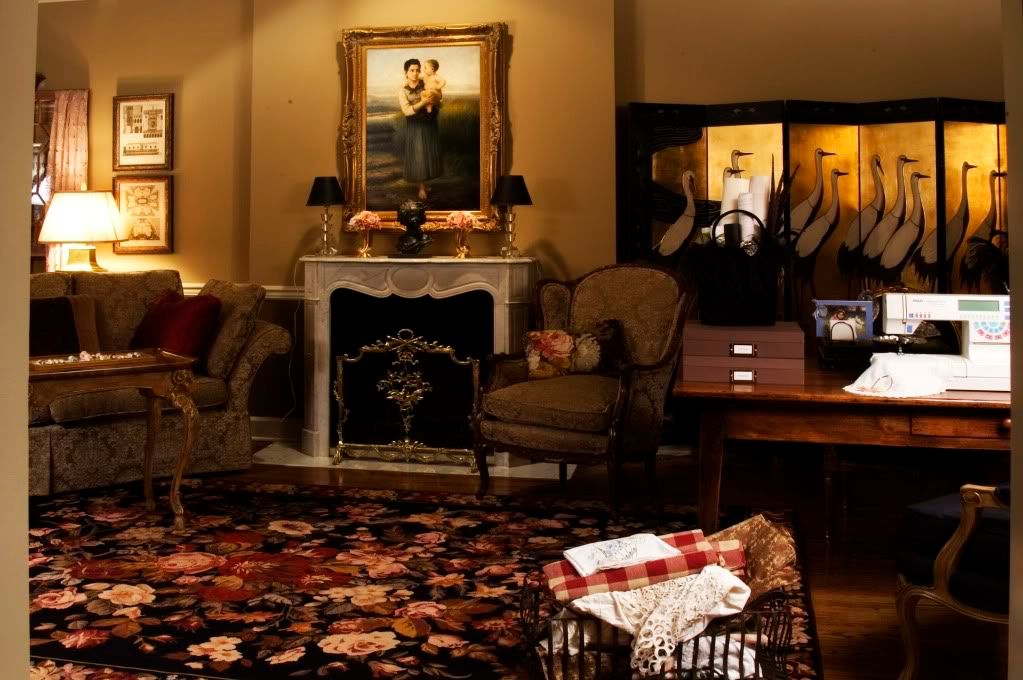 I chose this room for it's close proximity to my garden. The view from my desk is lovely. I'm constantly amazed by how the garden informs my creative endeavors.
Some
are vintage, some are from my travels ( I found the screen with cranes in China), some are personal items, and some are frivolous, but they all make me smile.
I enjoy sewing on anything that will accept a needle, but my passion is re-purposing old textiles.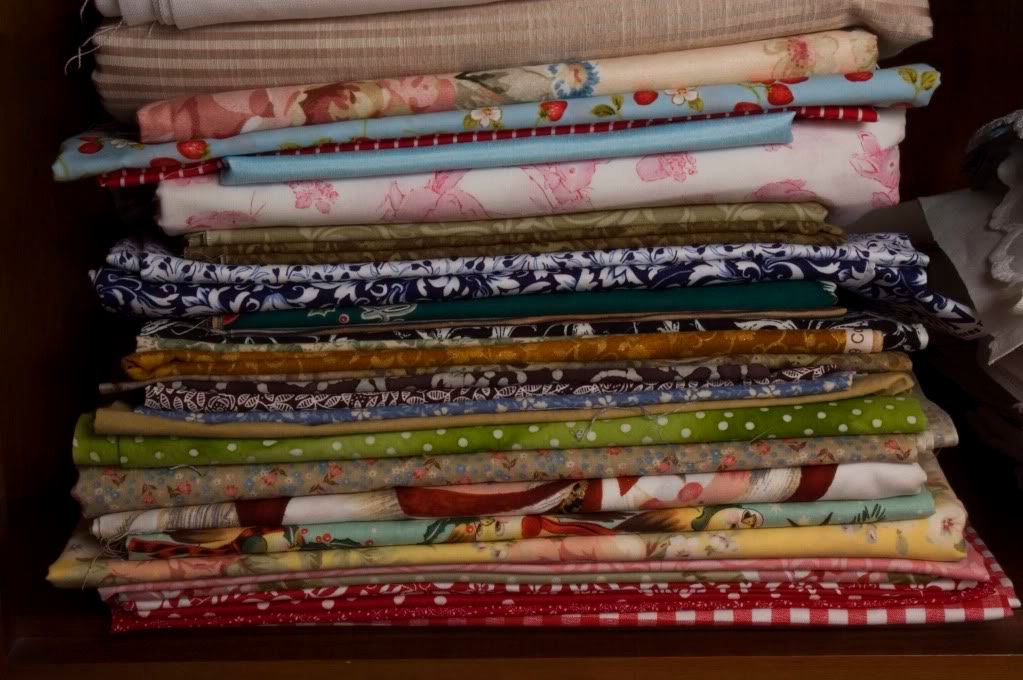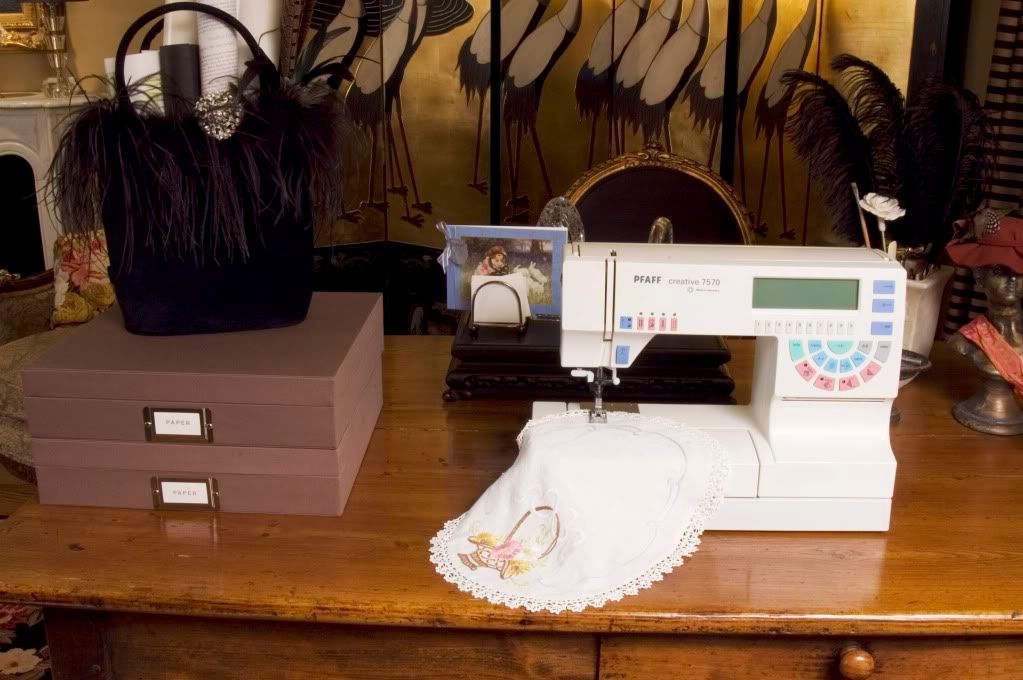 Aren't old linens beautiful?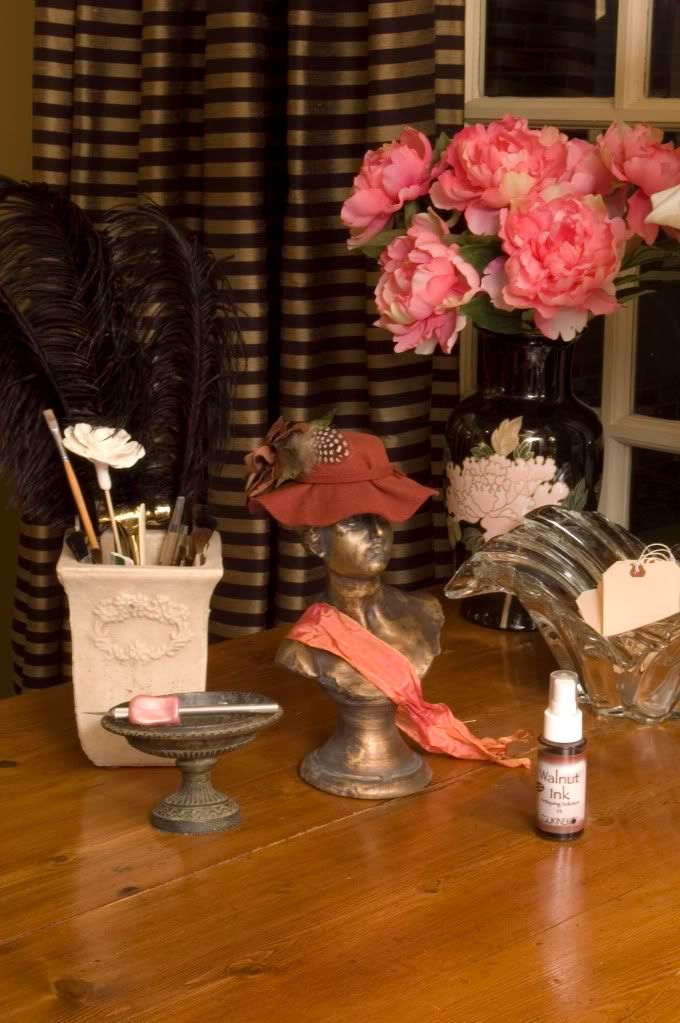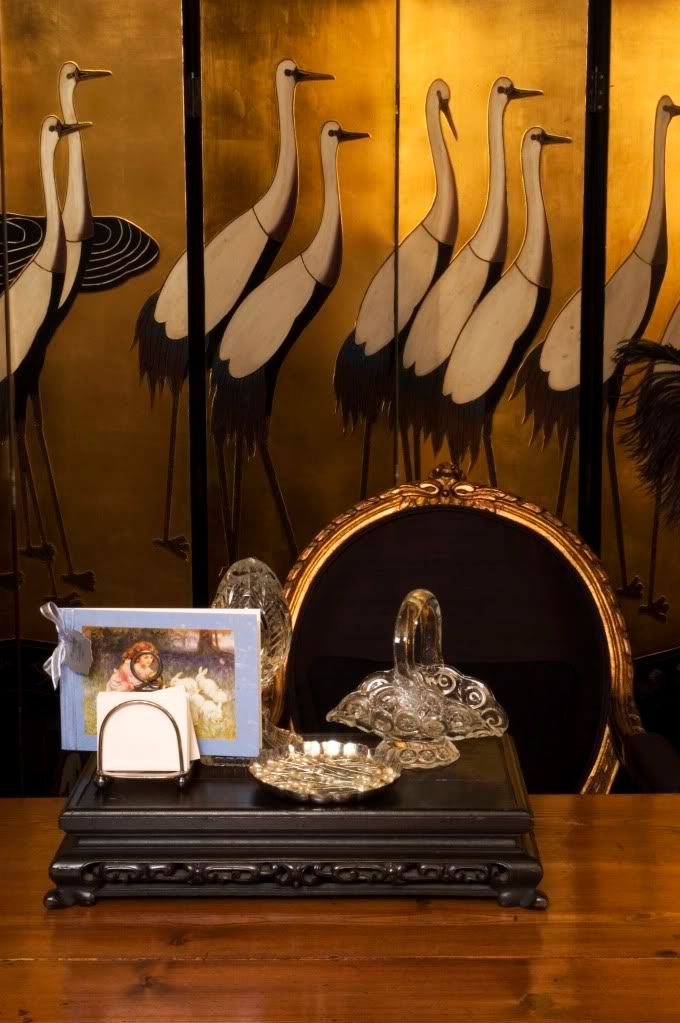 I keep supplies tucked in boxes on the bookcase. Out of sight, but close
at hand.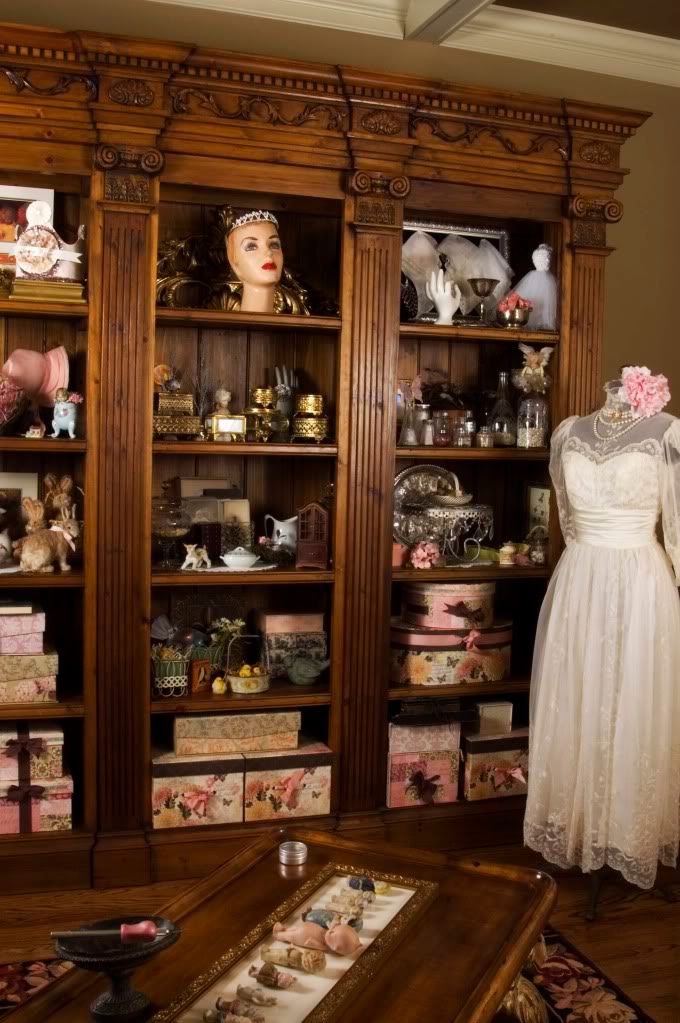 Some things are too pretty to tuck away in boxes, like bone buttons, glitter, pearls, and cabinet cards.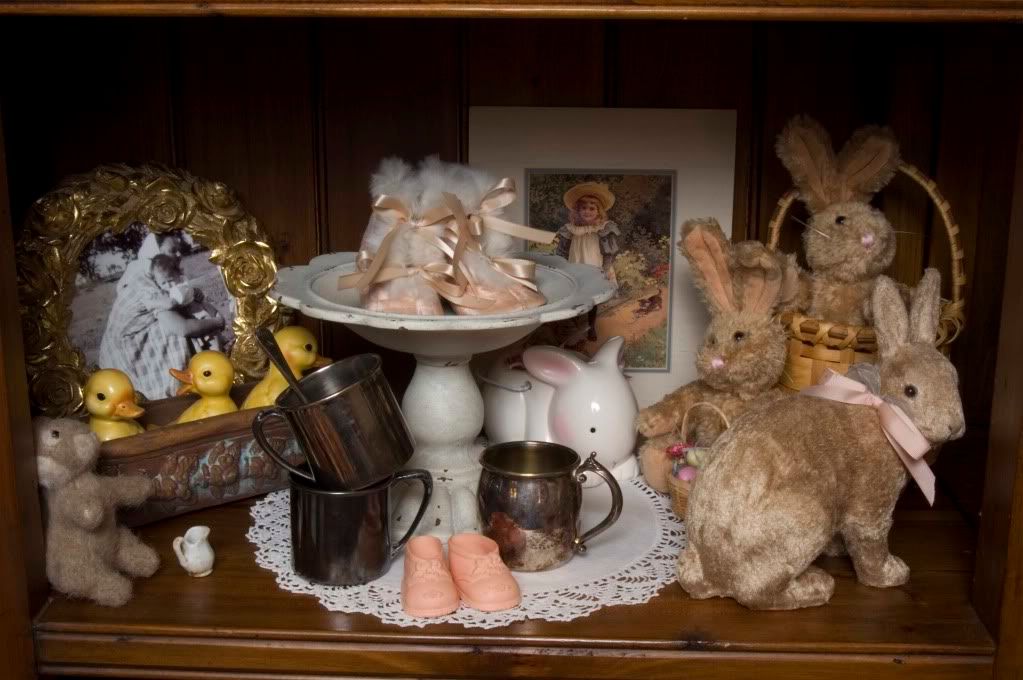 I gave this pretty old frame a new life, as a notice board. I replaced the dingy oil
painting with a sheet of cork that I padded and covered with a pretty fabric.
Yeah, I still love an old purse.
This old mannequin head reminds me of the nursery rhyme......
the maid was in the garden, hanging out clothes,
along came a blackbird, and snipped off her nose.
She's obviously had a (not too attractive) nose job.
I brought her
home and made her a QUEEN.


I'M MAD FOR LACE!

And silver baby cups

This purse is made from a tapestry fragment, found at the
Paris Flea Market.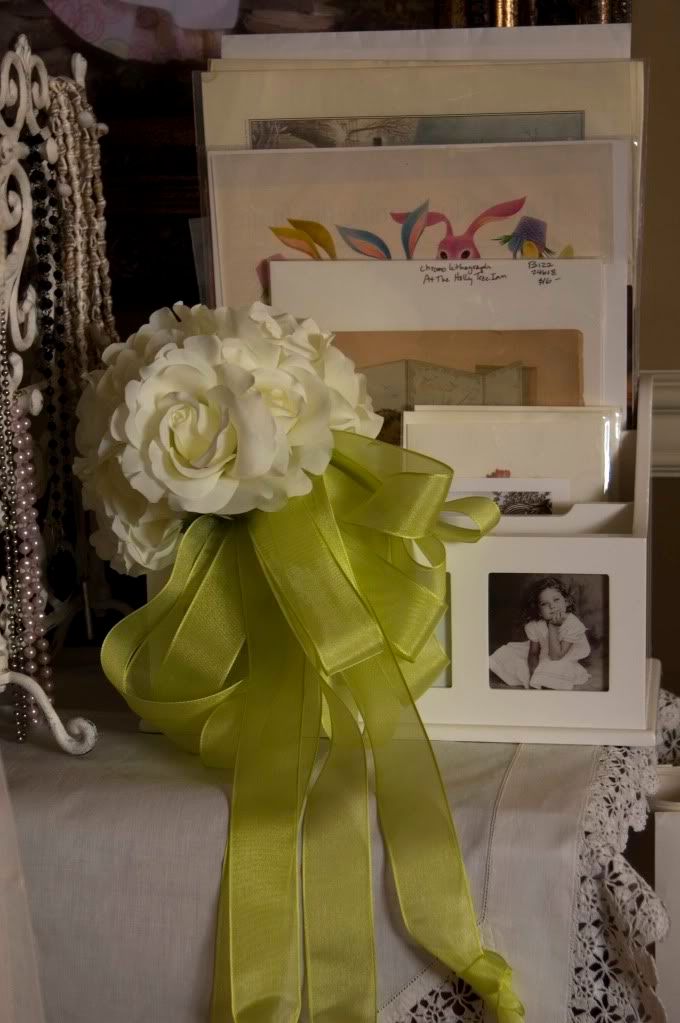 Treasures tucked into drawers.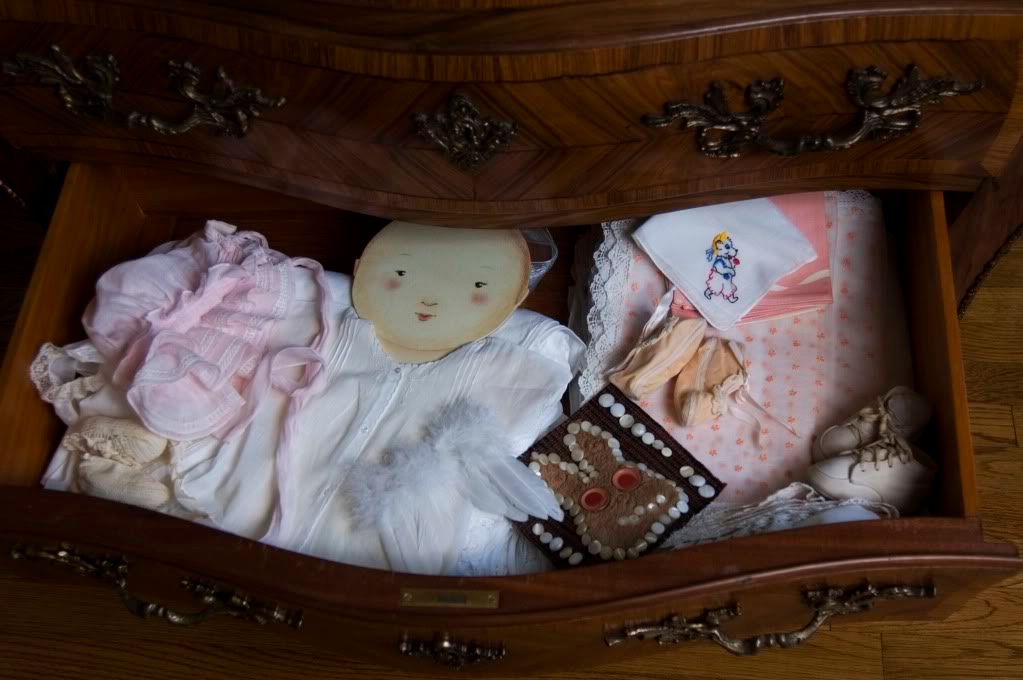 I love cheerful faces.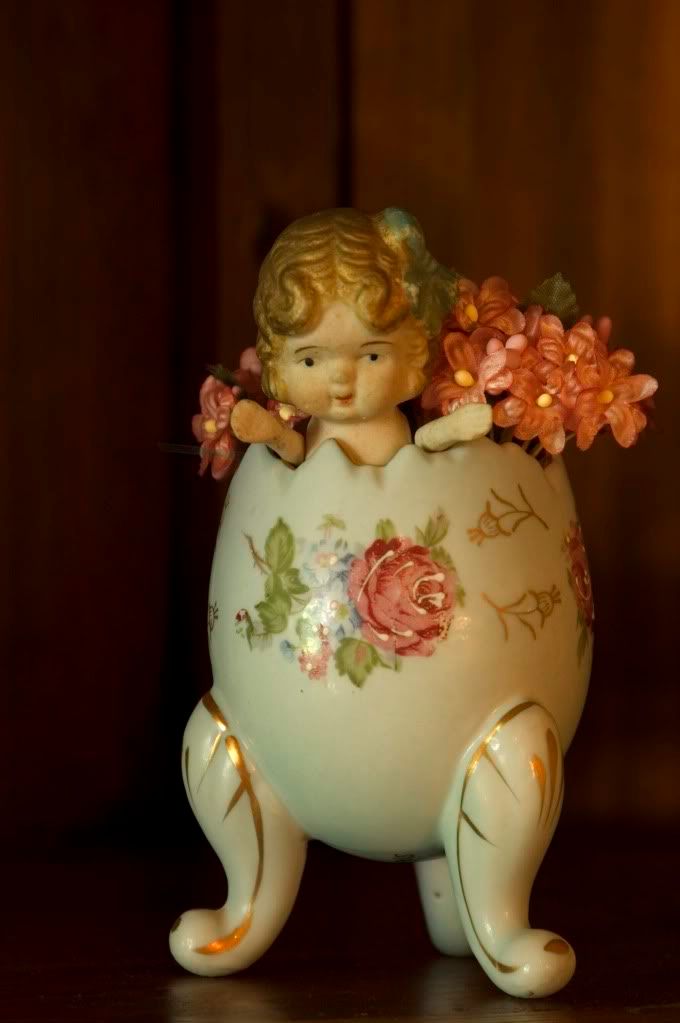 Shabby, but beautiful.

I'm older now. My collected treasures won't fit into a purse anymore, but my routine is much the same. I gather, I re-purpose, I create. I no longer sit on the grass in the garden to work, but the french doors at the end of my desk bring the garden inside, so it's still very much a part of the process. Then I switch on my computer and visit my friends, who are eager to share.
Thank you Karen, for arranging today's event.